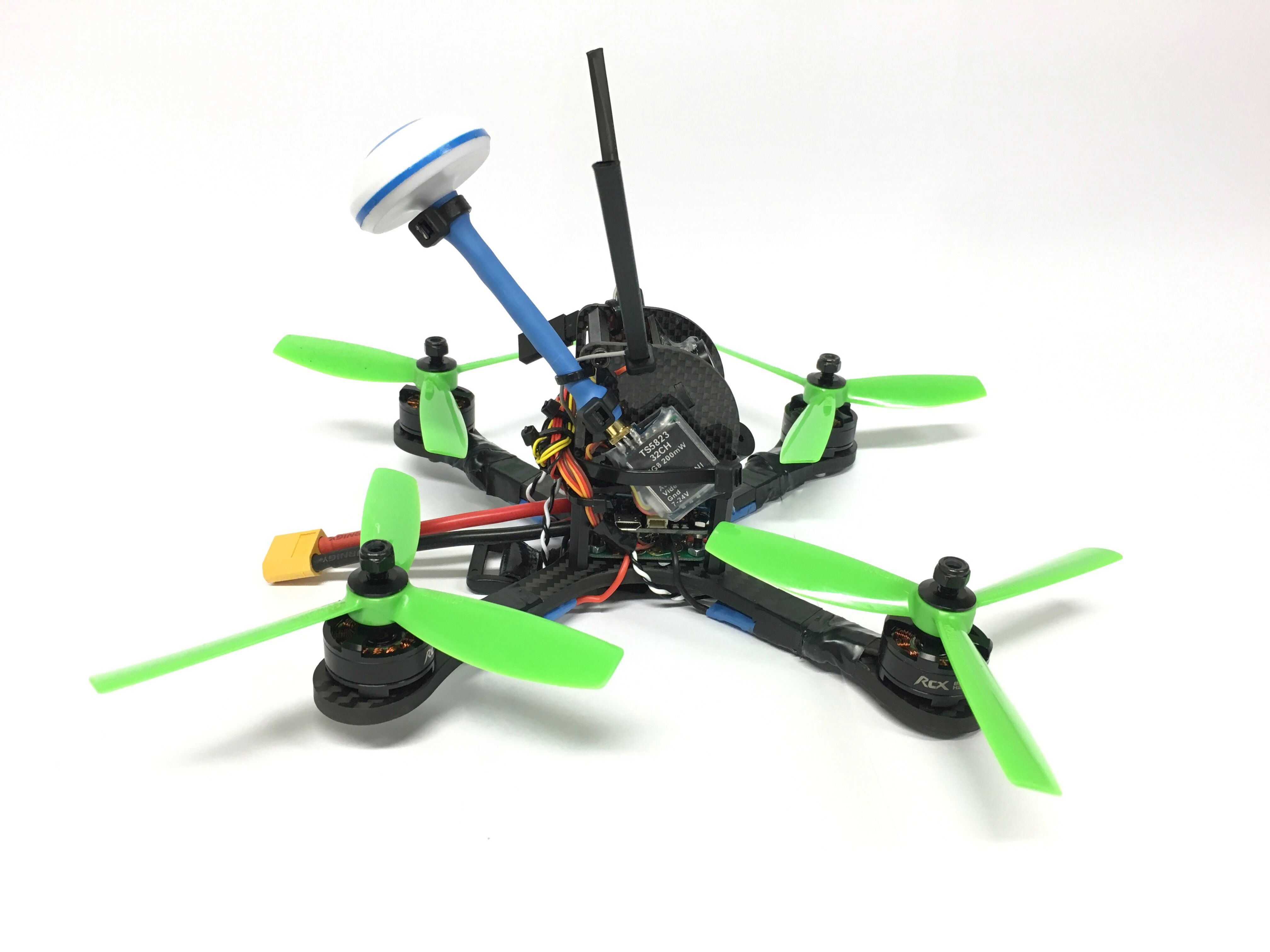 Maiden flights 6.6.2016 
Power
Used Dalprop 3-blade 5″ on maiden. Didn't notice any massive differnce to my Sunnysky 2204-setups except the overall sound seemed more even and much more smoother. Maybe this is because of the pro-version of little bee ESCs? (higher PWM frequency?)
I got 6 minutes flight time (with semi-hard acro'ing) on 1800mAh battery. No flight time difference. Motors (RCX 2205) and ESCs (littlebee 20A pro) were not warm at all, almost totally cool.
Control
I really have to admit that I couldn't notice any difference now when I flew on sbus compared to CPPM. Experts say there is a day-night difference but I doubt it a little. No difference on my skills.
Boris changed the expo functionality between 2.7.0 – 2.8. Dunno if I'm really satisfied with it. Maybe I liked more 2.7.0 expo style. I was flying with rcrate 1.0 and r&p rates to 0.9 and the flip was quite aggressive with super expo. Not that I couldn't handle it, but it had a really "switchy" feel, like on/off command style. I probably like more linear style than this way.
To be fixed
Foxeer camera picture is really crappy by default. Need to modify the shipped joystick-cable to get access to video + controls same time. Some lines across the picture, probably because now I need to use a switching regulator because the littlebee's fry the camera otherwise. Must test with capacitor.
Some little twitching on the flight performance and definely clear propwash effect (running BetaFlight/MOTOLAB 2.8.0 Jun  2 2016 / 09:48:00 (09f5c85)). Ideas: more gyro LPF, betaflight 2.7.0. Blackbox into use.
Problem solved: Motolab Cyclone FC was defect, the gyro made sudden glitches in-flight (no signs of these when motors not running). Changed a new Cyclone FC and it works flawlessly, no signs of glitches at any time.
Because of debugging I ended running on 500 looptime, oneshot125 and it feels the best racer I have had so far.
Camera angle
First tried with maybe 25-30 degrees angle but that's too little to really use the power from this copter. 35 degrees is really close to correct. I don't need to fly fast, but when I need to accelerate to another direction (after U-turn) the copter must tilt as much as needed and still I need to be able to see where I'm going.
My suggestions for camera angle are:
10-15 degrees for beginners practicing gates (I wouldn't start at zero angle at all)
25 degrees for acro-only
35 degrees for hardcore racing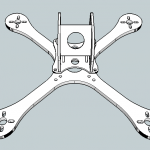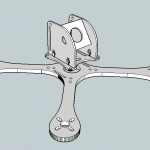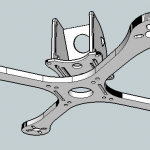 Bottom plate ordered from Armattan Productions (slooooow…):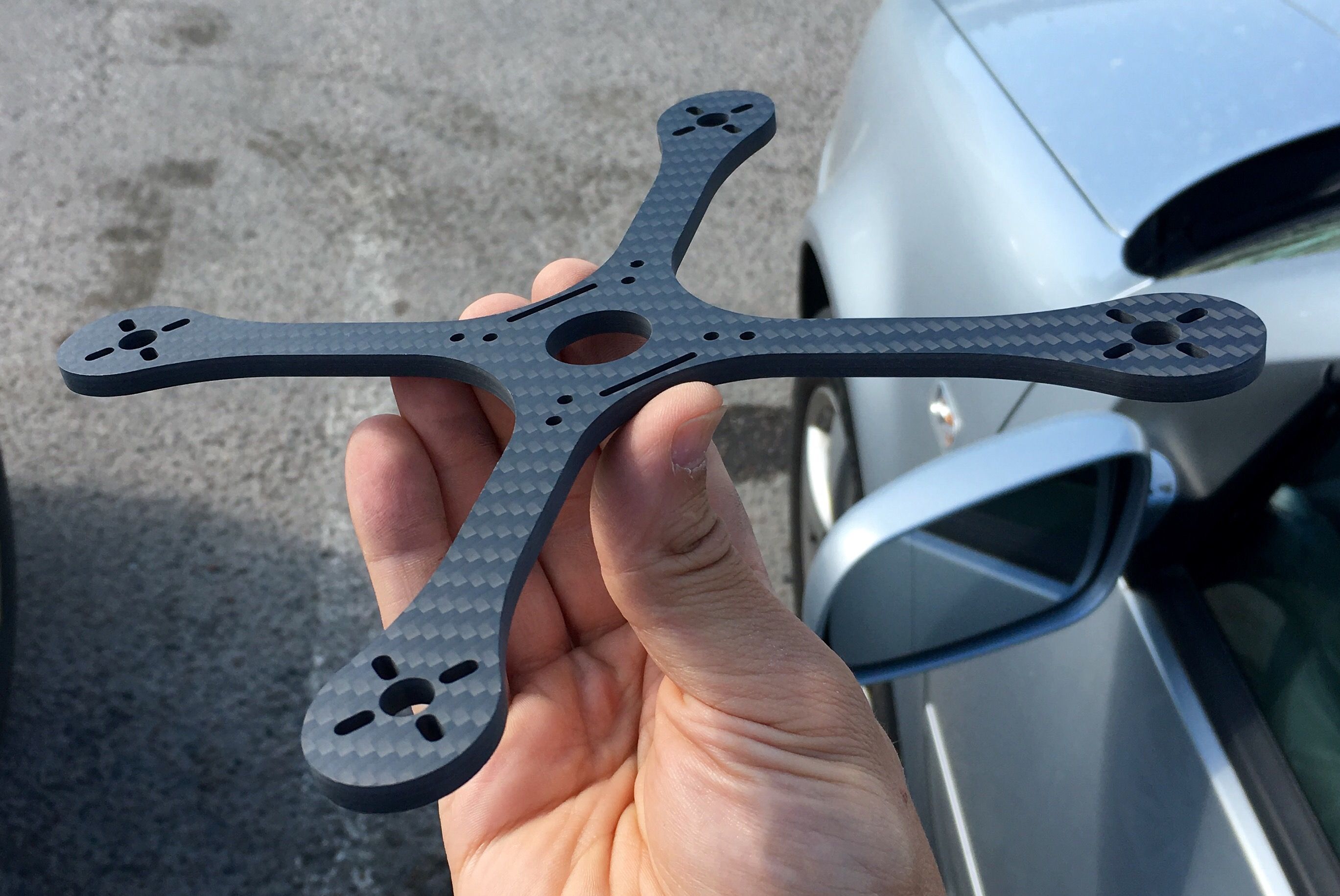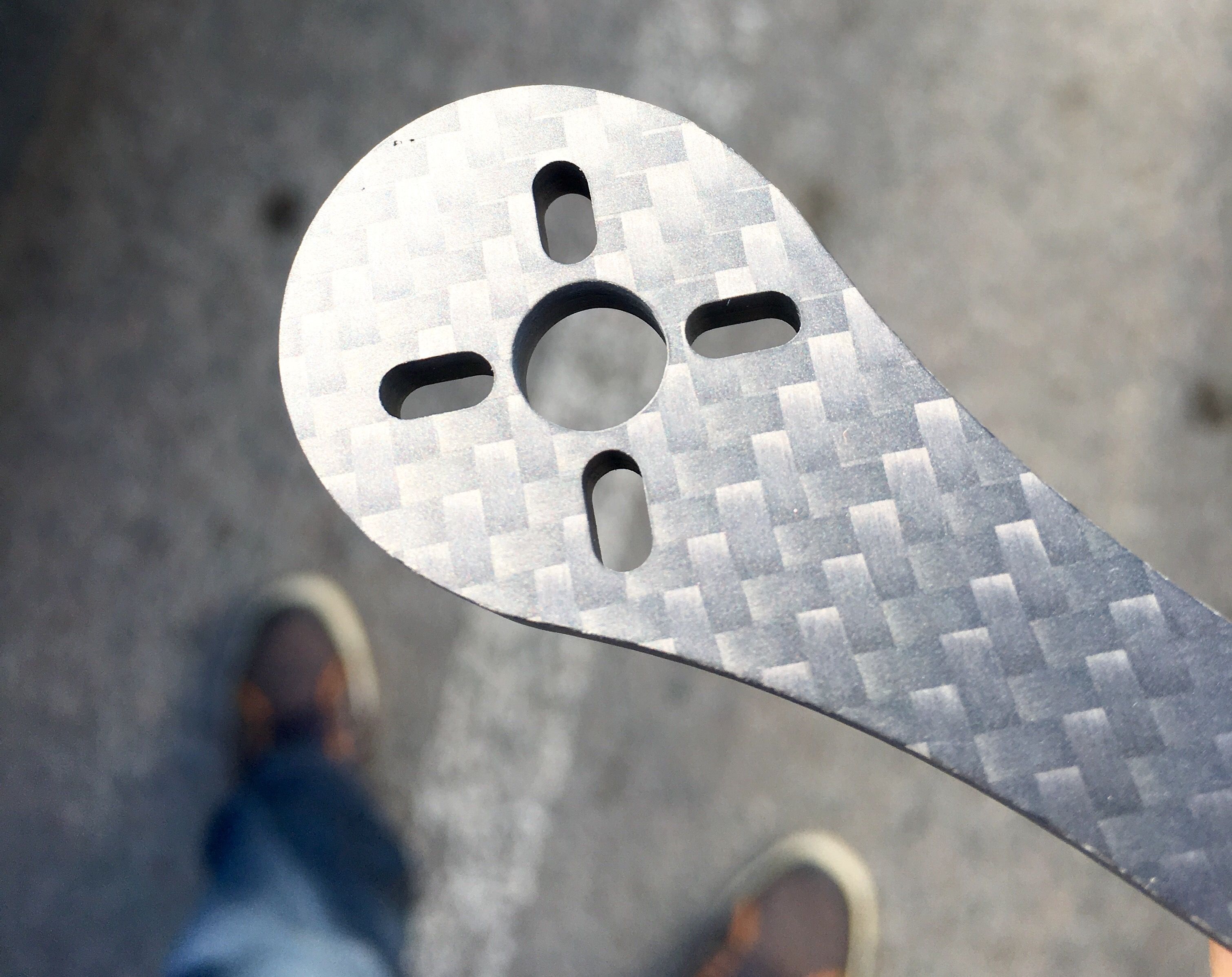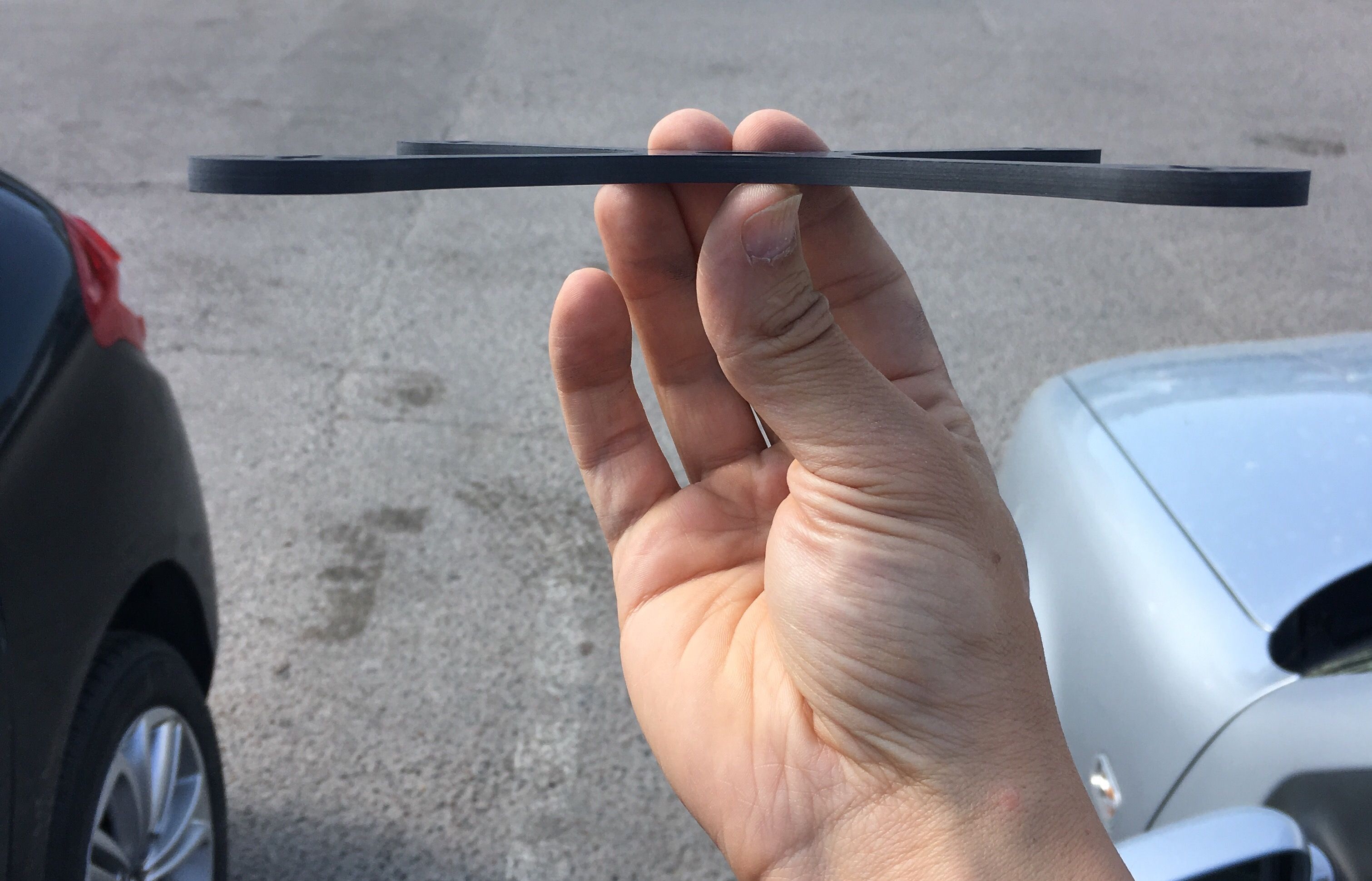 Camera box at the top, milled with my CNC from 2mm carbon sheet: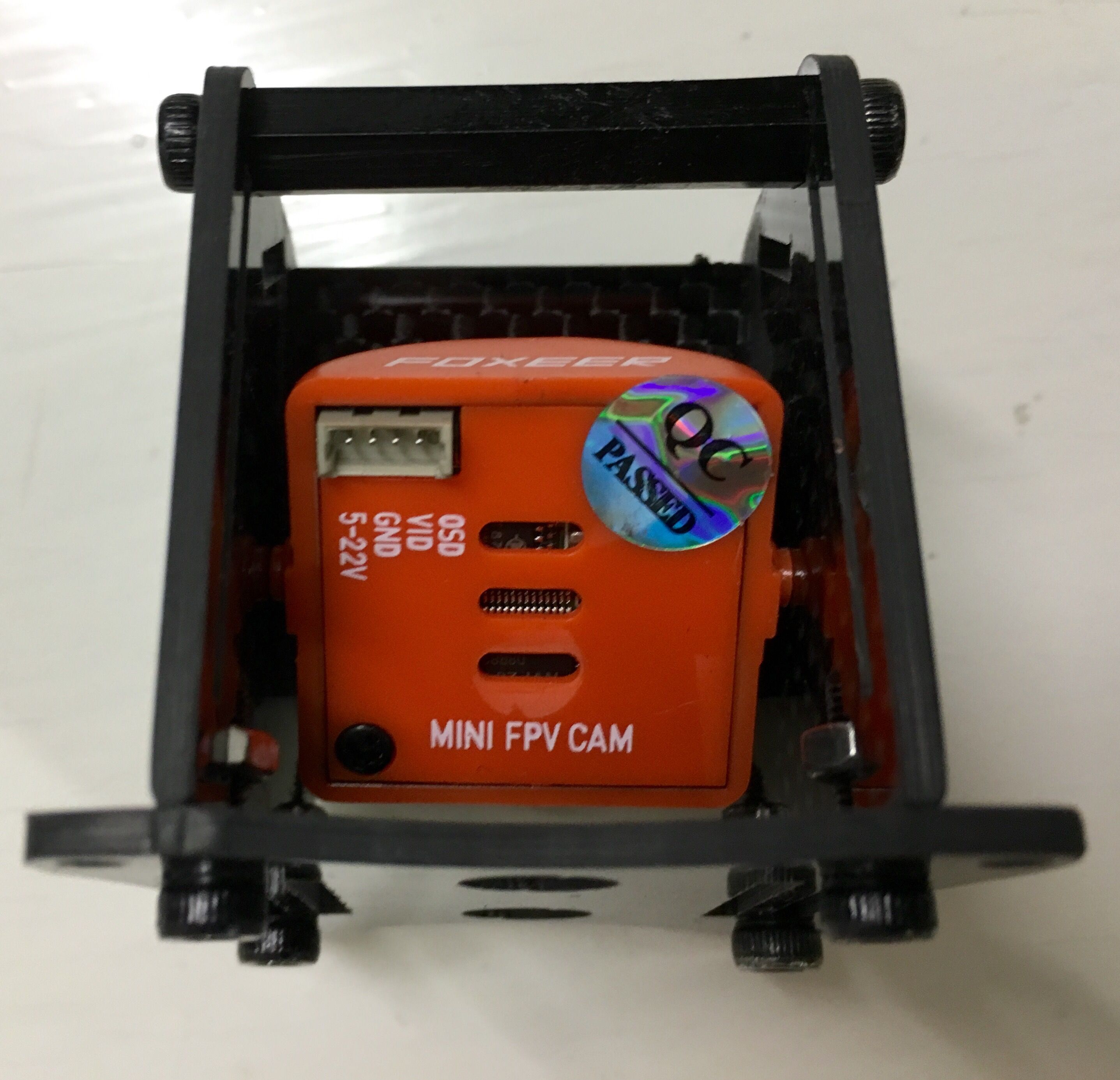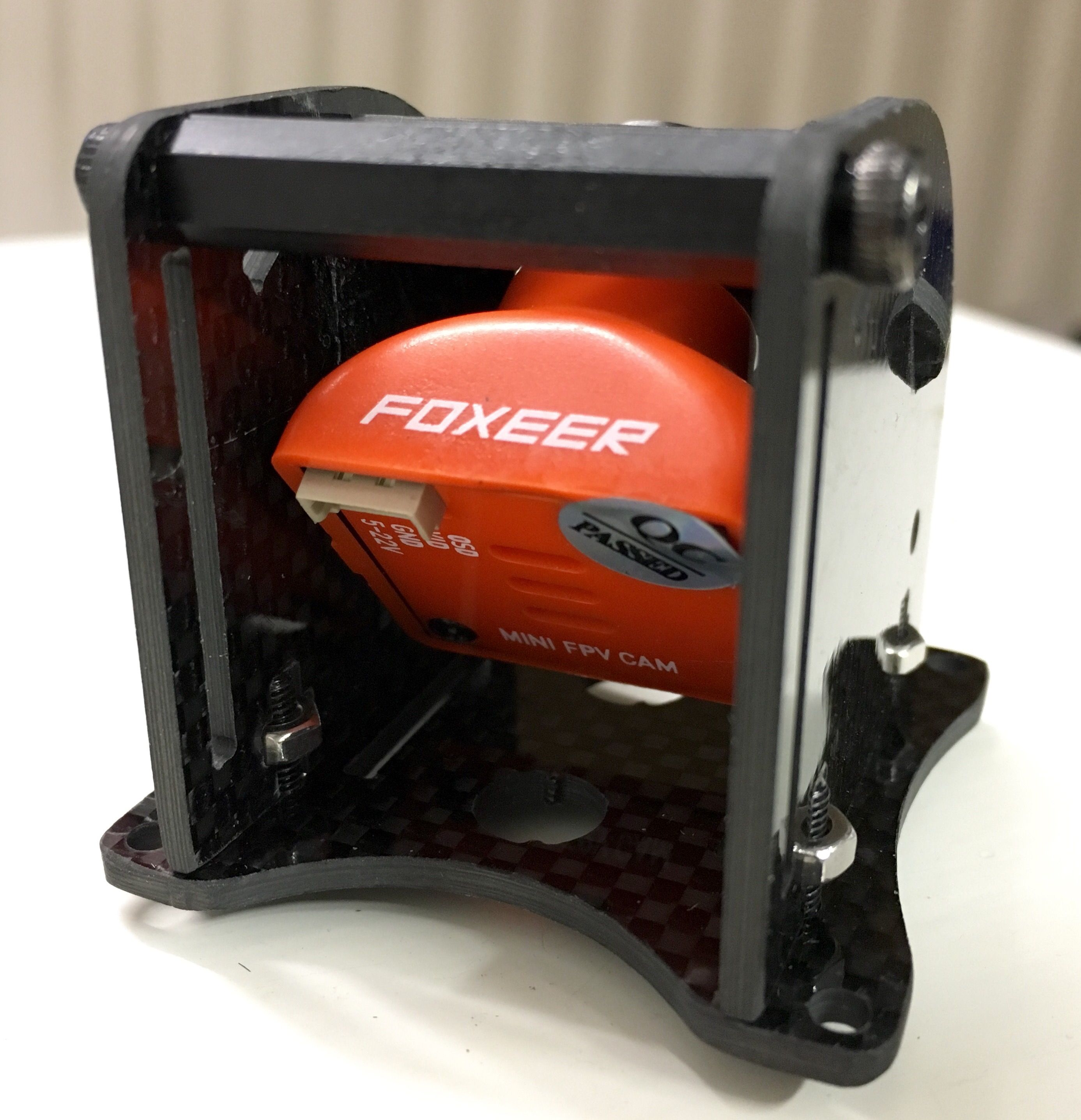 (still missing a mobius holder plate from the top.. maybe some day)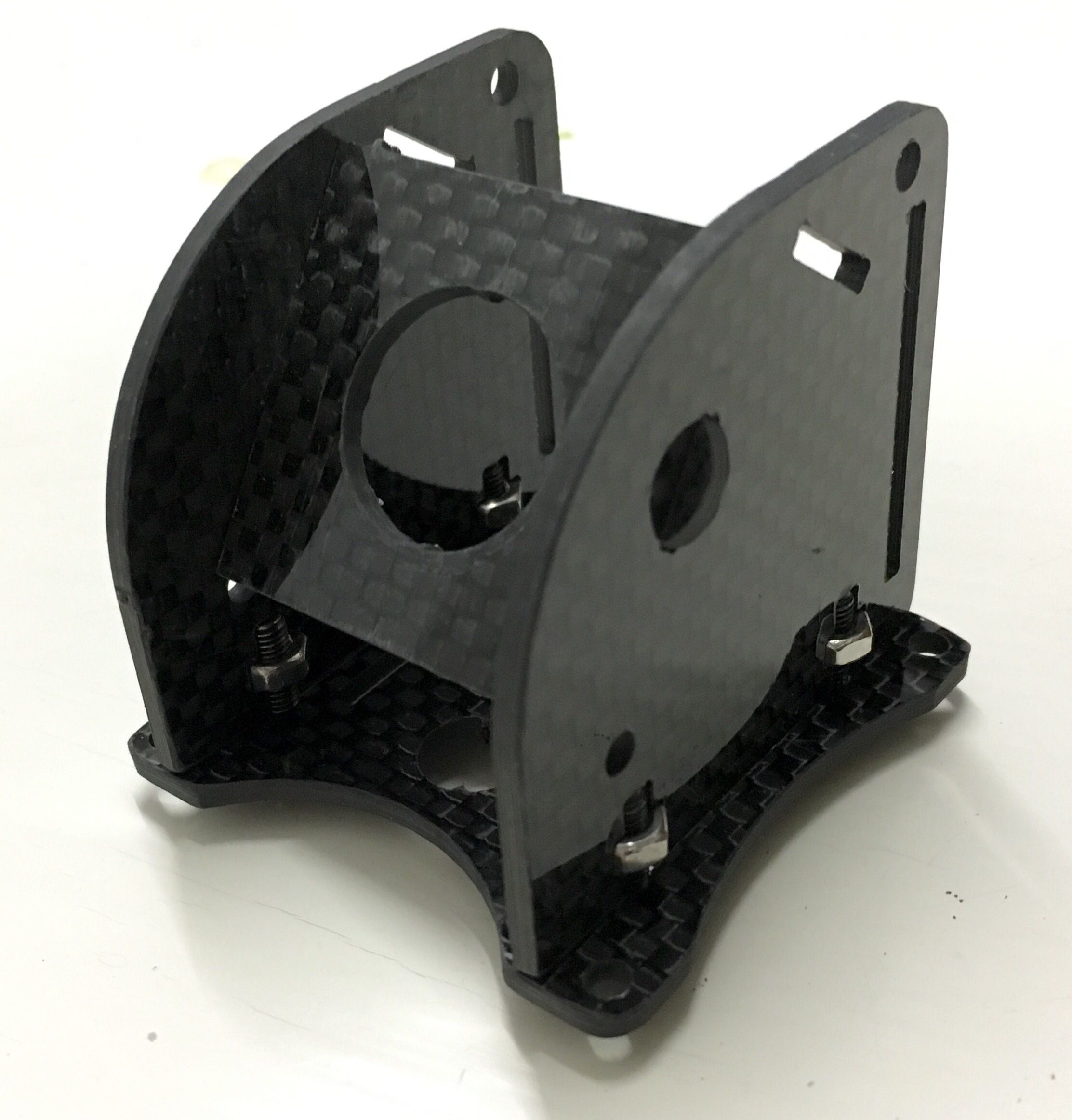 Motor
RCX H2205 (V2) 2350KV Multirotor Outrunner Brushless Motor
Model: H2205-6
KV: 2350KV
Weight: Approx. 24-25g (net weight included long AWG cables)
AWG Cable: 15cm
Prop Shaft Diameter: 5mm (CW)
Stator Diameter: 22mm
Stator Length: 5mm
Shaft Diameter: 3mm
Configuration: 12N14P
Motor Dimensions: Φ26.6*15.3mm
ldle Current: 0.79A @ 10V
Internal Resistance: 0.109Ω
ESC
RCX 20A Pro (FVT Little Bee) Mini BLHeli Multirotor ESC
This is a Pro version released in April 2016. It has F39X MCU instead of F33X. So it support even higher RPM motor than before.
Size in 24.5×12.5mm (Super Mini and Lightweight)
Pre-Flashed with BLHeli Firmware V14.
Oneshot125 Available – Faster communication between flight controller.
Damped Mode Available
It supports 2-4S with 20A continuous load and 30A peak (10 seconds)
Bootloader Enabled – you can flash new firmware and configure settings via USB using the servo cable.
FC
MotoLab Cyclone
The Cyclone uses the STM32F3 CPU withARM-Cortex M4 core and floating-point coprocessor for more efficient execution of fast looptime control algorithms, along with the low-noise MPU-6000 SPI-bus gyro chip for faster acquisition of gyro data.This board is compatible with the recent revisions of Betaflight firmware, using the betaflight_MOTOLAB target files. The PWM outputs are bidirectional, and the board is compatible with BLHeli ESC passthrough programming using an external CP2102 USB-to-serial converter connected to UART 1.

The design also provides:

An on-board 600mA switching regulator for direct connection to lipos up to 4S, or up to 6S with power filtering.

USB interface independent of UART channels.

Three hardware UARTs. The UART 2 TxD signal is also pinned out to a connector.

Reverse current protection on lipo and USB inputs for problem-free ESC calibration.

Dedicated serial LED output with lipo voltage and GND.

On-board buzzer driver with 5V and lipo voltage option.

Built-in VBAT monitor with low-pass filter from lipo input.

Built-in RSSI monitor with low-pass filter.

Dedicated SAT receiver interface with 3.3v using JST connector for compatibility with Spektrum/LemonRC cables.

Dedicated PPM and serial receiver interfaces with 5V power using 0.1″ headers.

Compatibility with receivers using Spektrum 1024/2048, SBUS, SumD and SumH receivers with built-in inverter.

High-quality gold plated 4-layer printed circuit board.

Connector arrangement for convenient access to serial interfaces, with PWM and other device connections on sturdy through-hole pin headers.

Camera
Foxeer XAT600M DC5V-22V 600tvl Sony Super HAD CCD FPV Camera
lens:2.8
Connector position:top connector
System:PAL
Color:Orange
Mode:IR sensitive